Preproduction model shown.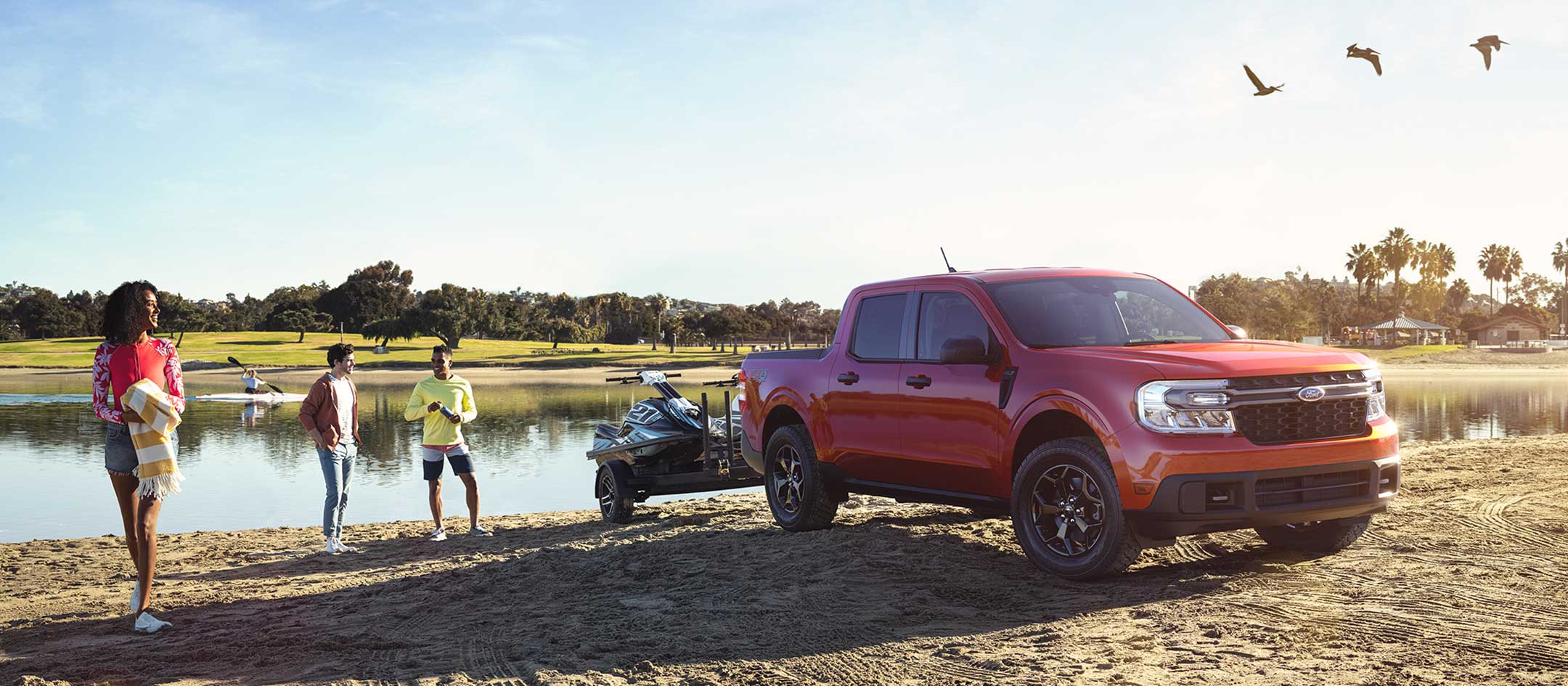 The New Ford Maverick is Now Available at Carlsbad Ford Lincoln
When it comes to a Ford truck, the last thing that comes to mind is hybrid. But for 2022, Ford is looking to change that by introducing the Maverick. As a hybrid truck, the Ford Maverick offers a good fuel economy and provides a strong engine and a flexible frame.
If you want to get your hands on this latest model from Ford, Hobbs, NM residents can stop by Carlsbad Ford Lincoln anytime.
Highlights of the 2022 Ford Maverick
As a hybrid truck, the Ford Maverick is powered by a 2.5-liter four-cylinder engine paired with a hybrid system to produce a combined 191 horsepower, 155 pounds of torque, and an estimated 42 miles per gallon. Although the new Ford Maverick doesn't utilize a V6 or V8 engine, this vehicle still offers a towing capacity of 2,000 pounds.
While the new Maverick model offers a strong engine and great fuel economy, these are not the only things that help it stand out. This truck also comes with many features Artesia, NM, residents will enjoy. These features include an eight-inch touchscreen, a power-locking tailgate, two rear-seat USB ports, two household-style power outlets, adaptive cruise control, forward collision mitigation, and more.
Trims
Custom Order the Ford Maverick at Our Dealership
Does the Ford Maverick seem like a vehicle you want to own? Then consider custom ordering one so you can truly make it your own. By custom ordering the new Maverick at our dealership, you can design every aspect of the vehicle from the color right down to the amenities put inside.
We Provide Quality Customer Service
Here in Carlsbad, NM, our dealership always strives to provide the best customer service and customer satisfaction around. It's why we not only offer a variety of new and used vehicles, but we also offer a myriad of services like buying your ride. At our dealership, customers can sell their vehicle in a quick and hassle-free way and receive a fair deal in the process.
If you want to take advantage of the services we provide, then visit Carlsbad Ford Lincoln today.